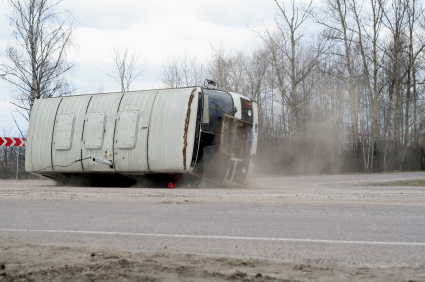 Federal commercial vehicle safety agencies recently conducted a massive initiative against drug and alcohol use by commercial truck and bus drivers. The crackdown was extremely effective, and according to the agency, as a result of these actions, as many as 287 unsafe truck and bus drivers are now off our roads.
The Federal Motor Carrier Safety Administration conducted its annual drug and alcohol sweep between April 30 and May 11, 2012. Close to 200 federal investigators pulled over commercial truck and bus drivers, and examined safety records. All kinds of drivers including school bus drivers, drivers of hazardous material transporters and passenger carriers were included in the sweep. The inspectors were specifically looking at commercial drivers who were in violation of alcohol and drug standards set down by the federal administration.
A total of 287 commercial truck and bus drivers were identified as in being in violation of federal laws against drug and alcohol use by commercial drivers. These drivers are likely to be fined, and will be barred from operating a commercial motor vehicle for their violations. Further, 120 truck and bus companies will also face enforcement actions for using a driver who failed a drug and alcohol test and for not establishing a proper drug and alcohol testing program in the workplace.
The Federal Motor Carrier Safety Administration has been focusing on unsafe trucking and bus companies recently. Last month, most Texas bus accident attorneyshad been pleased to know that the agency ordered at least 26 bus companies to shut down immediately due to unsafe operations.
While the federal government is working to make our roadways safer, bus accidents do still occur. If you or someone you know need help wtih an accident claim involving a bus, you should contact an experienced personal injury trial lawyer.
Tags: Bus Accidents, Trucking Accidents
blog comments powered by

Disqus