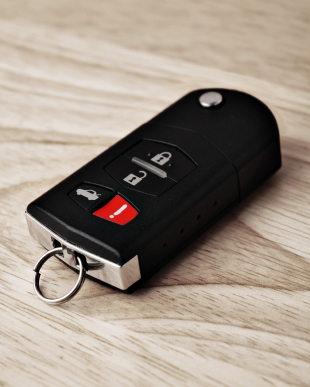 Electronic keys and keyless entry devices are an automotive technological advance that many drivers of cars and trucks enjoy. The Smart Key system allows for keyless entry into vehicles and also remote engine start and stop. Unfortunately, as with some automotive technological advances, these new systems are introducing new hazards that can cause catastrophic personal injuries and death.
Recently, a Florida couple died as the result of carbon monoxide poisoning that emanated from their Mercedes with a keyless ignition while the vehicle was parked in an attached garage. Toyota's keyless ignition system has been implicated in at least two other carbon monoxide deaths. Recently, automotive manufacturers have been blamed for failure to include a "shutdown" switch that would shut off the ignition automatically when a vehicle is accidentally left running.
Carbon monoxide is odorless and has no color, making it very difficult to detect until your body feels its harmful, dangerous effects. Homeowners can take action by installing carbon monoxide detectors.
The National Highway Traffic Safety Administration ("NHTSA") and automotive manufacturers say the key in an electronic system is an invisible code inside the vehicle's ignition module. This code may malfunction in a variety of circumstances, including when an additional keyless device is in or near the vehicle. NHTSA has modified its own Federal Motor Vehicle Safety Standard, FMVSS 114, in an attempt to deal with the safety issues surrounding these devices, but many safety experts feel these regulatory efforts are grossly inadequate.
In addition to carbon monoxide poisoning, keyless ignition systems can lead to other dangerous scenarios as well. Keyless systems provide drivers with the ability to shut down the engine without putting their vehicle in "park". This has resulted in drivers walking away from their vehicle after turning it off, and then the vehicle rolling away out of control.
If you leave your car running without realizing it in your garage, the risk can be deadly. Our product liability lawyers can protect your rights by filing a lawsuit against car manufacturers who make defective keyless entry systems.
Wrongful death lawsuits often result from product liability cases wherein a defective or poorly designed product results in the death of a person. Loved ones of a person killed due to an unreasonably dangerous product can potentially recover damages in a civil action against the entity whose negligent or wrongful act resulted in the death.
Tags: Automotive Defects, Smart Keys
blog comments powered by

Disqus