Under the Texas Prompt Pay Act, health insurers are required to pay physicians, hospitals and other medical providers within 30 days of receiving an electronic submission of bills for medical services; health insurers and pharmacy benefit managers are required to pay pharmacies within 18 days of receiving an electronic submission of bills.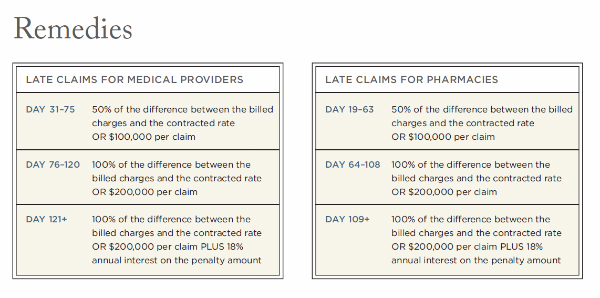 Texas Prompt Pay Act
The Texas Prompt Pay Act is the strongest law of its type in the United States, providing Texas healthcare providers with an important weapon to ensure they are timely paid by commercial insurers and pharmacy benefit managers for the medical services and drug products they provide.
Often, clean claims submitted to insurance companies or "payors" are not being timely paid. Watts Guerra LLP has developed proprietary software that examines 837/835 electronic billing and remittance data, identifies late-pay violations of the Texas Prompt Pay Act, and assesses the statutory penalties, interest and attorneys' fees available under the Act.
Initially designed to assist small family practice groups, Watts Guerra's Prompt Pay Claims Resolution Group quickly expanded its representation to large physician practices, hospitals and hospital chains, and now pharmacies and pharmacy chains. Our legal team's representation of medical providers now blankets all regions across the entire state of Texas, and we represent more than 10,600 medical providers including:
• 26 hospitals with 9,923 active hospital beds in Texas
• 36 laboratories providing insured health care services in Texas
• 2,457 non-physician medical providers across the state of Texas
• 168 pharmacies, and several of the larger pharmacy chains in Texas
• 7,939 physicians, including some of the largest physician groups in Texas
Texas Prompt Pay Arbitrations
Almost all of our prompt pay claims are filed and resolved through private dispute resolution, leaving them out of open court, and keeping things quiet for our medical provider clients. The upside to the arbitration process is that payment must be made within 30 days of the final ruling. As a result, the time from filing to resolution is much quicker than in normal litigation, often taking only six to nine months to resolve claims.
Watts Guerra LLP has generated hundreds of reports and provided those to the five major health insurance companies and the major pharmacy benefit managers for their consideration. We have filed 157 arbitration proceedings under the Texas Prompt Pay Act during the past two years and we have 33 final hearings scheduled in 2013. In the past year alone, we have settled 57 cases for clients, and are in discussions on many more.
The Texas legislature has remained steadfast in its efforts to assist Texas medical providers in getting paid on time. No remedy provided since 2003 has since been curtailed by the Texas legislature. This means claims can be made under the Texas Prompt Pay Act at least through September 1, 2015.
Contact the Prompt Pay Lawyers of Watts Guerra
If you are a medical service provider or have a client that is, contact Watts Guerra LLP about how you can recover penalties due to you under the law.
Tags: Texas Prompt Pay Act
blog comments powered by

Disqus