on 11/17/2012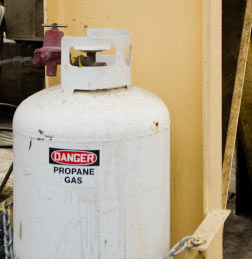 Eight workers were reported seriously injured after a propane tank explosion at a facility located near Conroe, Texas earlier this week. The explosion occurred at an AmeriGas facility located in Conroe on Tuesday afternoon.
Several firefighters at the Montgomery County Fire Department responded to the scene of the explosion. Out of the eight workers who were injured, two suffered critical injuries, and were airlifted to the University Of Texas Medical Branch at Galveston. The remaining six workers were taken by ambulance to local hospitals in Conroe. The two critically injured were burned on their faces and hands.
The tank explosion led to a flash fire, but the flames were quickly brought under control.
Investigations into the accident are all set to begin, but at this point in time, it appears to Houston work injury lawyers that the explosion occurred when the workers were filling up the propane tanks. The propane tanks were being filled at a cylinder exchange, where tanks are typically filled for use in outdoor barbecues as well as other recreational uses. One of the tanks seems to have sprung a leak, and ignited quickly. There were at least five flash fires that were ignited as a result of this explosion, and the flames spread throughout the property.
Several workers found the leak, but were not able to act in time to turn off the valve, before the leak ignited. It is believed that the leak ignited because of static or a spark from a piece of equipment. Firefighters believe that the extent of the explosion and the number of injuries were dramatically reduced because the explosion occurred in an open area, and not in an indoor confined space.
Multiple governmental agencies are investigating the Texas workplace explosion accident. Our lawyers have worked on similar accident and injury cases over the years. We know what it takes to help the victims of defective industrial products and workplace negligence. Contact Watts Guerra Craft today for help.
Tags: Personal Injury, Oil and Gas Refinery Explosions, Texas
blog comments powered by

Disqus